What Is Bitrix24?
Bitrix24 is an online workspace for small, medium, and large businesses. It features 35+ cross-integrated tools, including CRM, tasks, Kanban board, Gantt chart, messenger, video calls, file storage, workflow automation, and more!
Switching to Bitrix24 eliminates the need to be subscribed to a bunch of different SaaS solutions. You get all you need in a single package — all at a flat rate.
With over 12 million users, Bitrix24 is one of the most popular business software solutions in the world.
Who Uses Bitrix24?
Bitrix24 is a perfect solution for all types of businesses. It has something for every department — sales, marketing, project management, HR, and more.
Where can Bitrix24 be deployed?
Cloud-based
On-premise
---
About the vendor
Bitrix
Located in Alexandria, US
Founded in 1998
Bitrix24 pricing
Starting Price:
₹61.00/month
Yes, has free trial
Yes, has free version
Bitrix24 has a free version and offers a free trial. Bitrix24 paid version starts at ₹61.00/month.
Pricing plans
get a free trial
About the vendor
Bitrix
Located in Alexandria, US
Founded in 1998
Bitrix24 videos and images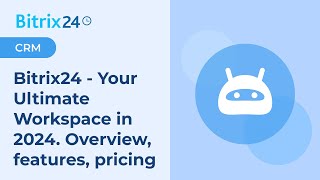 Features of Bitrix24
API
Access Controls/Permissions
Account Management
Activity Dashboard
Activity Tracking
Activity/News Feed
Alerts/Notifications
Applicant Tracking
Appointment Management
Approval Process Control
Approval Workflow
Archiving & Retention
Assignment Management
Attendance Tracking
Attendee Management
Audience Targeting
Audio/Video Conferencing
Audit Trail
Auto Update
Auto-Dialer
Auto-Responders
Automated Attendant
Automated Quoting
Automated Routing
Automated Scheduling
Automatic Call Distribution
Availability Management
Backup and Recovery
Bar Chart
Batch Processing
Benchmarking
Billable & Non-Billable Hours
Billing & Invoicing
Brainstorming
Business Process Automation
CAN SPAM Compliance
CRM
Calendar Management
Calendar Sync
Calendar/Reminder System
Call Center Management
Call Conferencing
Call List Management
Call Logging
Call Monitoring
Call Recording
Call Routing
Call Scripting
Call Transfer
Caller ID
Caller Profiles
Campaign Analytics
Campaign Management
Capacity Management
Cataloging/Categorization
Channel Management
Chat/Messaging
Class Scheduling
Click Tracking
Client Database
Client Management
Client Portal
Client Tracking
Collaboration Tools
Color Codes/Icons
Commenting/Notes
Commission Management
Committee Management
Communication Management
Computer Telephony Integration
Conferencing
Confirmation/Reminders
Contact Database
Contact Management
Content Delivery
Content Library
Content Management
Content Publishing Options
Contractor Management
Conversation Intelligence
Create Subtasks
Customer Database
Customer Engagement
Customer History
Customer Segmentation
Customer Support
Customizable Branding
Customizable Fields
Customizable Forms
Customizable Invoices
Customizable Templates
Dashboard
Data Import/Export
Data Storage Management
Data Synchronization
Deal Management
Dependency Tracking
Design Management
Discount Management
Discussions/Forums
Document Capture
Document Management
Document Storage
Donation Management
Donor Management
Drag & Drop
Drip Campaigns
Electronic Forms
Electronic Signature
Email Campaign Management
Email Management
Email Marketing
Email Templates
Email-to-Task Conversion
Employee Database
Employee Directory
Employee Management
Employee Photos
Employee Portal
Employee Profiles
Employee Recognition
Employee Scheduling
Event Management
Event Scheduling
Event Triggered Actions
Expense Tracking
Feedback Management
File Management
File Sharing
File Storage
Financial Management
For AEC Industry
For Call Centers
For Cloud Phone Systems
For Financial Institutions
For IT Project Management
For Insurance Industry
For Mac Devices
For Nonprofits
For Religious Organizations
For Sales Teams/Organizations
For Small Businesses
For Startups
For Yoga/Pilates Studios
For iPad Devices
Form Builder
Forms Automation
Forms Creation & Design
Forms Management
Full Text Search
Gantt/Timeline View
Geotargeting
Goal Management
Goal Setting/Tracking
Graphical Workflow Editor
Group Management
HR Management
IVR/Voice Recognition
Idea Management
Import Tasks
Integrated Business Operations
Interaction Tracking
Invoice Creation
Invoice History
Issue Management
KPI Monitoring
Knowledge Base Management
Knowledge Management
Labor Forecasting
Landing Pages/Web Forms
Lead Capture
Lead Distribution
Lead Engagement
Lead Management
Lead Notifications
Lead Nurturing
Lead Qualification
Lead Segmentation
Leave Tracking
List Management
Live Chat
Marketing Automation
Marketing Calendar
Mass Texting
Media Library
Meeting Management
Member Database
Member Directory
Membership Management
Milestone Tracking
Mobile Access
Mobile Optimized Emails
Multi-Campaign
Multi-Channel Communication
Multi-Channel Data Collection
Multi-Channel Marketing
Multi-User Collaboration
Negative Feedback Management
Offline Access
Offline Form
On-Demand Recording
Onboarding
Online Booking
Online Calendar
Online Forms
Online Invoicing
Online Payments
Online Punch Card
Online Store Builder
Online Time Clock
Online Voice Transmission
Opportunity Management
PBX
Patient Communications
Payment Processing
Performance Management
Performance Metrics
Personalization
Phone Key Input
Pipeline Management
Policy Management
Portfolio Management
Pre-built Templates
Predictive Analytics
Predictive Dialer
Preview Functionality
Price and Cost Calculations
Pricing Management
Pricing and Cost Calculations
Prioritization
Private Network
Process Modeling & Designing
Process/Workflow Automation
Product Configurator
Product Lifecycle Management
Product Roadmapping
Progress Tracking
Project Management
Project Planning
Project Planning/Scheduling
Project Scheduling
Project Time Tracking
Project Tracking
Proposal Generation
Prospecting Tools
Publishing Options
Punch card
Queue Management
Quotes/Estimates
ROI Tracking
Real Time Editing
Real Time Notifications
Real Time Synchronization
Real Time Updates
Real-Time Chat
Real-time Consumer-facing Chat
Recurring Tasks
Registration Management
Reporting & Statistics
Reporting/Analytics
Reporting/Project Tracking
Resource Management
Resource Scheduling
Ring Groups
Roadmapping
Role-Based Permissions
Routing
Rules-Based Workflow
SEO Management
SIP Trunking
SMS Messaging
SSL Security
Sales Activity Management
Sales Approval
Sales Pipeline Management
Sales Reports
Scheduling
Screen Sharing
Search/Filter
Segmentation
Self Service Data Preparation
Self Service Portal
Service Level Agreement (SLA) Management
Shared Contacts
Social Marketing
Social Media Integration
Social Promotion
Sprint Planning
Staff Management
Status Tracking
Strategic Planning
Subscriber Management
Support Ticket Management
Surveys & Feedback
Task Editing/Updating
Task Management
Task Progress Tracking
Task Scheduling
Task Tagging
Team Management
Template Management
Templates
Text Editing
Text to Speech
Third Party Integrations
Third-Party Integration
Ticket Management
Time & Attendance
Time & Expense Tracking
Time Off Management
Time Tracking
Timesheet Management
Training Management
Transcripts/Chat History
Transfers/Routing
Two-Way Audio & Video
Unified Communications
Usage Tracking/Analytics
User Profiles
Utilization Reporting
Vacation/Leave Tracking
Version Control
Video Conferencing
Virtual Extensions
Visual Analytics
Visual Workflow Management
VoIP
VoIP Connection
Voice Mail
Volunteer Management
WYSIWYG Editor
Web Forms
Web-based Deployment
Website Integration
Website Management
Widgets
Work Order Management
Workflow Configuration
Workflow Management
Bitrix24 Reviews for Indian Users
Eileen
Office Manager in US
Verified LinkedIn User
Electrical/Electronic Manufacturing, 201–500 Employees
Used the Software for: 1+ year
Reviewer Source
Robust project management tool
Comments: Bitrix24 is a robust and comprehensive platform for office and project management. it offers a wealth of tools that can significantly improve the efficiency and productivity of teams. I recommend Bitrix24 to other office managers looking for a comprehensive solution.
Pros:
Makes it easy to track project progress and assign tasks to team members. Shared calendar feature and automatic notifications ensure that everyone is aware of deadlines and priorities. Bitrix24 encourages collaboration among team members through chat features, video conferencing and the ability to share files and documents in real time. The platform enables automation of workflows and business processes, allowing office managers to focus on higher-value tasks.
Cons:
Although Bitrix24 offers a wide range of features, but some advanced features require paid subscriptions, which could be a drawback for companies with limited budgets.
Becky
Software Developer in US
Verified LinkedIn User
Hospital & Health Care, 51–200 Employees
Used the Software for: 2+ years
Reviewer Source
Simple and intuitive CRM without many complications
Comments: Bitrix24 allows us to monitor agency projects from start to finish, as well as sales processes and metrics. So we don't need a plethora of specialized platforms or pieces of software for each task; instead, we may use a unified system. It's also really convenient to keep all of your files in one place on Google Drive.
Pros:
It's a user-friendly CRM with straightforward features. There are a lot of predefined options in the projects section that may help any company with limited expertise manage day-to-day operations beginning at any point in the sales funnel.
Cons:
For our purposes, the projects section has a great deal of information, therefore we'd like it if there were a way to export, say, a task's individual subtasks in order to compile a report. When you have to hand over all the gory details of a project to a client, your efficiency takes a nosedive.
Rick
Fachinformatiker in Germany
Civic & Social Organization, 11–50 Employees
Used the Software for: 2+ years
Reviewer Source
Its time to move on
Pros:
Theoretical this platform has much to offer but if one tries to use it one notice many issues.
Cons:
There are so many cons to this product I don't even know where to begin.The biggest thing is that the cost keeps increasing for the product and they don't even update the product with basic functions which are missing for years now. With every update they add things one doesn't need and the whole things gets more convoluted. Options are not to be found in a single section, they are spread all over the whole platform. Many pages exist to change options but there is no way to find them.Updates won't apply correctly leaving an outdated structure with deactivated features behind. What really gets me angry is, that there is no way to delete an account fully. One can just deactivate an account/user and they are still on your bitrix instance. You cant even delete your OWN account! Support wouldn't even help, they say that this feature is not included.They should be careful because its against GDPR to not delete user data including the account on request.The question arises on why they don't want you to delete your account. Its clearly not a technical issue.I had enough of this company. They have so much potential but they waste it all. They don't even care that i'm upset that I cant delete my/ employees accounts which left our non-profit. These accounts where created by me using our own email and domian.
Krishna
Human Resources Generalist in US
Verified LinkedIn User
Hospital & Health Care, 5,001–10,000 Employees
Used the Software for: 2+ years
Reviewer Source
An all-inclusive project management software
Comments: It has helped us with task management, Gantt chart creation, task delegation, document integration, and software that can work with our other company applications.
Pros:
As a company wide platform, Bitrix24 has been implemented. For us, this project management software has been the most comprehensive and powerful one we've ever used. Bitrix also provides simple integrations that can be implemented immediately.
Cons:
The product's UI leaves much to be desired. While the learning curve is shorter than that of other software, it is still noticeable when first using the program.
Joseph
Project Manager in US
Verified LinkedIn User
Information Technology & Services, 10,000+ Employees
Used the Software for: 6-12 months
Reviewer Source
If you are looking for a very comprehensive and easy to use program, this is the best option.
Comments: Overall, Bitrix24 allows us to monitor sales processes and pipelines, as well as monitor the progress of agency-led projects. We can now get our work done with a single, unified system rather than a multitude of separate platforms and applications. Furthermore, it is quite practical to have all the paperwork in a single Drive.
Pros:
It's a user-friendly CRM that doesn't hide any of its features. Regardless matter where in the sales process a company is, the system's many customizable preconfigured options in the projects section will make daily management a breeze.Likewise fascinating are the E-mail marketing integrations, which allow for pre-written emails to be sent based on the pain points specified in a company's sales processes.
Cons:
There is a lot of useful data in the projects section, and we'd like to export it in order to create a report. For example, we might use an export of a task's subtasks. In our scenario, we have to manually update a spreadsheet to show the client how much time was spent on a specific assignment, which requires more reporting and reduces our flexibility.