15 years of helping Indian businesses
choose better software
Local product
What Is Vantage Circle?
Vantage Circle is a Global Employee Rewards and Recognition platform that uses AI and machine learning to deliver easy-to-use and effective employee engagement solutions to HR.
The company's suite of solutions, namely, Vantage Rewards, Vantage Perks, Vantage Pulse, and Vantage Fit is designed to address the conscious need to enhance workforce productivity by presenting a great employee experience. Our platform boasts a user base of 2M+ employees from 700+ clients across the globe.
Who Uses Vantage Circle?
Medium and large businesses looking to enhance their employee engagement through Reward and Recognition, Corporate benefits and Perks, 360-degree feedback, and Corporate Wellness throughout the world.
Where can Vantage Circle be deployed?
Cloud-based
On-premise
---
About the vendor
Vantage Circle
Located in New Delhi, India
Founded in 2011
Vantage Circle pricing
Starting Price:
No free trial
No free version
Vantage Circle does not have a free version and does not offer a free trial.
About the vendor
Vantage Circle
Located in New Delhi, India
Founded in 2011
Vantage Circle videos and images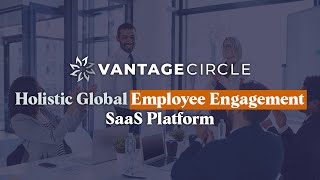 Features of Vantage Circle
Activity Dashboard
Alerts/Notifications
Anonymous Feedback
Benchmarking
Commenting/Notes
Continuous Feedback
Customizable Questions
Dashboard Software
Employee Database
Employee Recognition Software
Employee Reward Programs
Engagement Tracking
Feedback Management
Goal Management
Manager-to-Employee Recognition
Nominations
Peer-to-Peer Recognition
Progress Tracking
Pulse Surveys
Question Library
Reporting & Statistics
Reporting/Analytics
Rewards Management
Self Service Portal
Survey/Poll Management
Surveys & Feedback
Third Party Integrations
Vantage Circle Alternatives
Vantage Circle Reviews for Indian Users
Carlos
CEO in Uruguay
Verified LinkedIn User
Import & Export, 51–200 Employees
Used the Software for: 1+ year
Reviewer Source
Magnificent
Comments: Great, simply.
Pros:
It's easy to use, all the options it offers are very easy to access and very useful. On their site there's an informative video for first users and it's really clear. The interface is beautiful, great option.
Cons:
The truth: nothing, everything is very careful in detail and it's an excellent option.
Melanie
HR Leader in Chile
Hospital & Health Care, 10,000+ Employees
Used the Software for: 2+ years
Reviewer Source
Saves time and helps recognize whoever deserves the best. It is reliable.
Comments: I am happy with Vantage. It has built a good experience for all building a strong employees engagement rules. I am excited to have it.
Pros:
Without difficulty, Vantage Circle was easy to implement. Generally, I like the dashboard. Well organized with we managed features for successful workability. It helps give credit where it deserves. I am glad.
Cons:
The customer support team has solved all my issues. They are nice and good to go.
B Naveen
Scholar Trainee in India
Information Technology & Services, 10,000+ Employees
Used the Software for: 1+ year
Reviewer Source
Vantage Circle-Great Way to Gain and Earn.
Comments: A single point of contact for all employee benefits. By virtue of their skill, employees would feel valued and appreciated rather than receiving other material rewards.
Pros:
* Fantastic discount for corporate people and fantastic application for IT people. * Redeem gift cards can be easily accessed through an easy-to-use catalog. * The app has a great UI and is user-friendly.
Cons:
The Vantage Circle gateway's tracking system for ordered items is ineffective. We frequently don't receive points for the products we order, but after contacting customer service, we do receive points. At that point, the customer service representative asks for the product's shipment date, which is difficult to get on websites like flipkart and amazon after the goods is delivered.
Publishing, 51–200 Employees
Used the Software for: 2+ years
Reviewer Source
Fantastic customer service
Pros:
Vantage Circle offers the BEST customer service. I never anticipated them to be that rapid with their Chat/email communication. Whenever I had a concern, they responded relatively soon to all of my inquiries and were creative with solutions. I am extremely delighted to be an end user of Vantage Circle.
Cons:
Everything about Vantage Circle is excellent, and if there are any problems, they are always available to help, even on weekends. Kudos!
Verified Reviewer
Verified LinkedIn User
Civil Engineering, 51–200 Employees
Used the Software for: 6-12 months
Reviewer Source
Vantage Circle is their favorite feature.
Pros:
The amount of options the user has with Vantage Circle is their favorite feature. The most significant being diversity in food, fashion, lifestyle, and e-commerce.
Cons:
What aspects of Vantage Circle bother you? I've seen that customer service isn't always accommodating or helpful. The reporting capabilities aren't as good as I wish they were. It might be challenging to use the platform, particularly for first-time users.